Hey Little Monsters!
Just a few pictures of my recent hair work/additons to share with you guys tonight! I added some black to a wig I never finished & then ratted the hell out of her + shaped it.
I've also got another two-tone black & white I'm working on but it's not quite finished yet.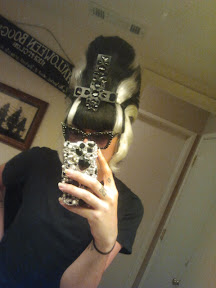 I also adopted another teal 'do into the closet & did a bit more on my "Hair" outfit-
And just for fun, my random new glasses I made!
Hope everyone had a fun & safe.holiday, I have been so busy lately but after a work trip to LA this weekend I will be back with even more new things I've been working on next week!
xx
Jeffrey